New & now available in the U.S.! Order
anytime after April 1.

Haag Farm, www.Walnuts.US, is selling
(-June only!-) pure whole unripe delicate
GREEN WALNUTS with semi-liquid interiors from Calif. at about 10 walnuts/lb ($44.75
for 5 lbs. minimum--50 nuts--or only $8.95/lb) with
fast 3-day FREE shipping by the U.S. Post
Office. (Note: Open box fast on arrival day.)

For Green walnut recipes now, see
GOOGLE, Martha Stewart or food
websites and cookbooks from England &
Europe & the U.S. (Do quarter or smash walnuts
unless you are pickling them!)

Yum, yum! Now make your own:
a) Nocino or nocello cordial/liqueur (Italy);
b) Pickled walnuts (order SMALL) "succulent" (Europe);
c) Vin de Noix "nectar" (France);
d) etc. etc. etc. (Flavor any vodka!)

Please: e-mail haag@cal.net to order anytime after April 1, giving your address and how many pounds wanted (5-lb minimum)

The Haag Family Farm thanks you in advance!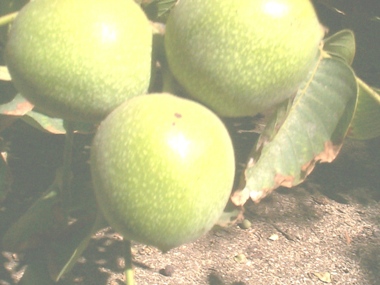 Green walnuts in June have special flavors and aromas which disappear in ripe hardened walnuts in the autumn.